August 31, 2010
Introducing our newest product
- A fine large Chinese cloisonne vase with a pair of long-tailed shrikes and plum blossoms. This vase is designed by our own designers. In Chinese culture, a pair of birds symbolize long-lasting devoted love between couples.
This beautiful cloisonne vase is based on the shape and theme of vases of the Ming Dynasty. At 12 inches high it will make an attractive addition to any home. It weighs just over 2 lbs.
This slender necked vase has a vibrant blue interior and makes for a stunning presentation piece. Manufactured in 2010, it has the qualities of a modern original cloisonne such as thin copper wires, fine grained enamels and a very smooth surface.
<![if !vml]>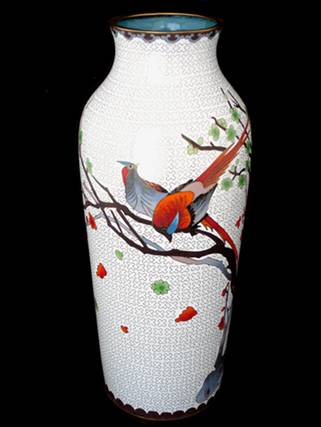 <![endif]>

<![if !supportLineBreakNewLine]>
<![endif]>
Let's jump to a little history before I tell you a little more about the vase. Did you know that the Ming dynasty ran until 1644 when it was felled by the Shun Dynasty? The Shuns were only around for a matter of months before the Manchu led Qing Dynasty stole the power and they lasted until 1912.
The Ming and Qing Dynasties had their own favored collectibles such as dragons they also had a penchant for using beautiful green jade.
Cloisonne art pieces are gaining in popularity in the home decor world as more people become aware of oriental arts. This particular vase is very popular due to its charming decoration and light filigree background.
To buy this beautiful cloisonne vase please click fine large white decorative Chinese cloisonne vase .
We accept Paypal and Credit Cards for payment. Thank you.
We now carry an authentic traditionally made cinnabar lacquer box
Authentic Chinese cinnabar lacquer dates back to almost 2300 years ago in China. While there are many pieces that are originals the first piece of this art form is undocumented and unknown. While many lovers of oriental art know of authentic Chinese cinnabar lacquer most people don't know what it is exactly.
The lacquer known as cinnabar comes from tree sap that is native in China. This tree is appropriately named for the purpose it is used for: Lacquer tree. The lacquer is produced by trunk tapping. The way cinnabar lacquer is created is by adding the pigments into the actual lacquer.
Depending on the thickness of the carving, hundreds of coats used to be needed to get the right amount for the actual object at hand. Usually the bases that are painted on are created out of copper or wood. These types of pieces would usually take months to complete as each coat would have to dry. However, with modern technology, the technique and production of these art pieces has evolved. They are now created much quicker.
These authentic Chinese cinnabar lacquer items are perfect for an oriental lover who wants to get their hands on pristine oriental art.
There are very few artisans in China who still produce authentic cinnabar lacquer using the time consuming traditional methods.
We are lucky to find a cinnabar lacquer workshop in Beijing whose artisans are still making lacquer boxes using this method. We have added one of their cinnabar boxes to our inventory.
The design on the cover is the Chinese character of longevity surrounded by five bats. The word bat sounds the same in Mandarin as prosperity and five bats symbolize extreme happiness and prosperity.
<![if !vml]>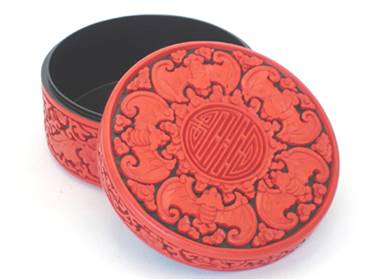 <![endif]>
To buy this box, click beautiful authentic cinnabar lacquer box with five bats.
We accept Paypal and Credit Cards for payment. Thank you.
In This Issue
<![if !supportLists]>· <![endif]>Introducing our first brand cloisonné product, a 12 inch high slender white cloisonné vase featuring a pair of birds and plum blossoms
<![if !supportLists]>· <![endif]>Presenting a new authentic traditionally made cinnabar lacquer box we now carry
Also This Quarter
We post insightful information on Asian cloisonné, arts, crafts and history on facebook. Click My Crystal Bridge Facebook to check it out.
Forward
Know someone who might be interested in our products? Please forward this newsletter to them. Thank you.
Unsubscribe
If you no longer wish to receive this email, you can unsubscribe here.