Cinnabar lacquer is one type of Chinese lacquer that uses cinnabar pigment for its stunning red color. There are also other Chinese lacquers with much more eye easing colors such as black, blue, yellow, pink etc. But cinnabar lacquer is the most intense one that would catch your attention wherever they present.
Cinnabar, or mercury sulfide, better known as the mineral vermillion, has been used to pigment lacquer for thousands of years, since the Song Dynasty of ancient China. The lacquer is built up to a heavy thickness on a brass or wooden base and then carved.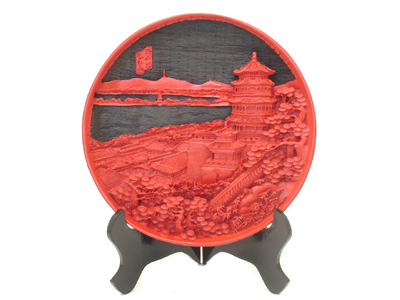 The lacquer used in Chinese lacquer wares are the syrups from a certain type of tree in southern China. These trees' syrups have been used primarily to protect furniture from decaying. These syrups are thick and transparent. They are very harmfully to the handler's skin when they are wet. Once they dry, they form a nice translucent coating on the wood underneath it.
Traditionally, Chinese cinnabar lacquer has been made by applying layers after layers of lacquer then hand carved by skilled artisans until mid 20th century. Each layer of lacquer has to dry before another layer can be coated. It's common to take a few months to a year to finish a piece.
Due to the harm raw lacquer brings to its handlers, Chinese lacquer workshops have been looking for new method to make lacquer wares.
Modern cinnabar lacquer wares are made from cinnabar lacquer resins and molds. Once the lacquer dries, the surface of the wares is hand carved with chisels to give it a human touch. This new technology also helps to increase productivity and maintain consistency in cinnabar lacquer's design and quality.
We carry cinnabar plates - cinnabar lacquer plates adorned with carved, fearsome crimson dragons breathing angry, blistering fire. Grim, dull red clouds glow on a sinister, coal-black background and a reborn phoenix completes the scene.
We also carry lovely cinnabar lacquer flower vases and pen holders, richly ornamented with flower-and-leaf designs.
Searching for a gift for your lover? Consider our cinnabar jewelry boxes. Covered in the Chinese pictograms for prosperity, our jewelry boxes express to your lover that she is an extraordinary person, unique in your world, the burning flame that warms your heart.
Think what your loved woman would say if you present her our heart shaped cinnabar lacquer trinket box on valentine's day. It would be even better if you fill our cinnabar lacquer box with her favorite chocolates.
If that doesn't strike your fancy, look at our cinnabar lacquered bracelets. These gorgeous, richly colored bangles are a stunning gift, suitable for your dream woman. They are exquisite; the perfect enhancement against the elegant curves of an attractive woman's wrist. They are decorated with the Chinese symbols for calmness, harmony and peace.
All our Chinese lacquer items are marked with shipping weight. Feel free to click on "More Views" button to see the item in a gallery. Feel free to give us a call with any questions you may have about any of the cinnabar lacquer items. We place ourselves at your service.
We offer a bonus gift, such as a cloisonne enameled powder box, or a cloisonne enameled Christmas bell with any order over $39.99.
Buy a Chinese cinnabar lacquer trinket box and get a pair of bonus cloisonne chopsticks.