Beijing's antique market has been very hot in recent years. With the continued improvement of people's living standard, more and more individuals now have some disposable cash that they can spend on collecting antiques. But you have to be very careful though. Beijing's antique market is filled with fakes, reproductions and imitations - along side with the occasional genuine ancient artifacts.
If you have spent enough years in Beijing China, you might have heard about Beijing's famous antique flea market - Pan Jia Yuan, or Pan's family garden. It's located in the inner city and almost on every day, you can see streams of people coming and going.
This is a place to find hidden treasures under piles of recent imitations and junks. You need to have a sixth sense and abundant knowledge of Asian history and culture to identify the treasures.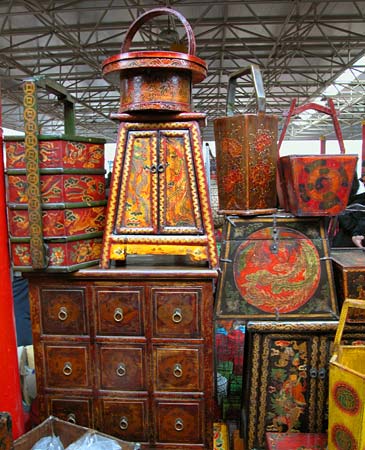 If there is a trinket, however tacky, found anywhere in China, you will also find it here. From Mao caps to Ming pottery, Yixing teapots to military binoculars, Pan Jia Yuan has everything, including cloisonne vases, Tibetan trunks, bronze door knobs, antique locks, wooden puppets, even kitchen sinks.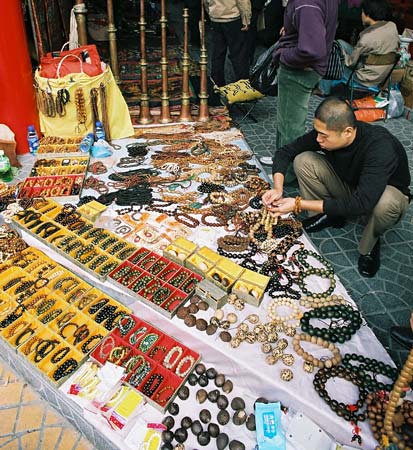 If there is anything you are interested, always remember to bargain. The vendors set the price high to expect you to bargain it down. It makes the buying and selling experience more interactive and interesting. If you have the time and patience, you can always find something that touches you heart that you must have. Before long, you will find yourself a proud owner of all sorts of dusty artifacts.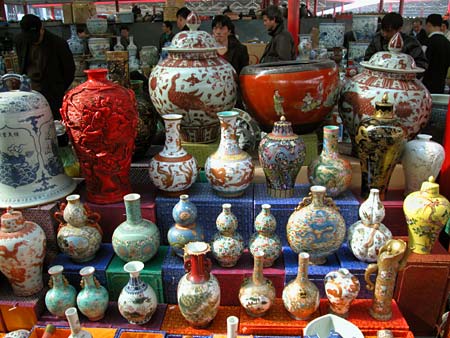 Most patrons coming to Pan Jia Yuan are not for treasures. They come for the atmosphere of ancient arts and crafts, the atmosphere of lost time and history. Nobody knows the exact history of Pan Jia Yuan and it has been moved several times by the government. It has survived a number of cleanups and still drawing thousands of people every day. Next time you are in Beijing, load your pocket with cash and come to Pan Jia Yuan for a treasure hunt or two. You might be lucky enough to stumble on a genuine Ming dynasty porcelain vase.